VALCHLOR® (mechlorethamine) gel is a prescription medicine used on the skin (topical) to treat people with Stage IA and IB mycosis fungoides-type cutaneous T-cell lymphoma (MF-CTCL) who have received previous skin treatment. It is not known if VALCHLOR is safe and effective in children.
The VALCHLOR Support® team is here to help you with your treatment
When your doctor prescribes VALCHLOR, the two of you will fill out and sign a form that authorizes a specialty pharmacy to ship VALCHLOR directly to you
A nurse from the specialty pharmacy will call you to arrange delivery and answer any questions you may have about your prescription. This call will come from area codes 844, 955, or 877. You must answer this call to arrange delivery of your prescription
Throughout your treatment journey, a nurse or pharmacist will reach out to answer questions you may have about VALCHLOR

Important note: VALCHLOR will not be shipped to your home unless you speak with the nurse to confirm shipment. Then someone has to be present at your home to sign for your delivery of VALCHLOR

Please note that VALCHLOR is not available at your local pharmacy. VALCHLOR is only offered through a specialty pharmacy, which will help you with all your needs, including providing assistance with your prescription and insurance verification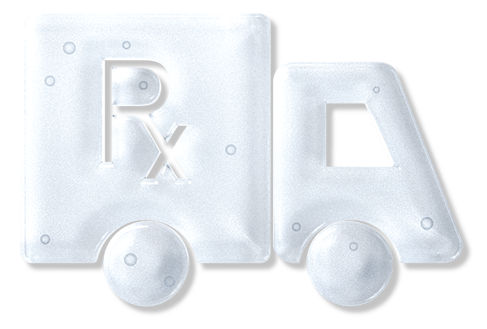 VALCHLOR is delivered directly to your doorstep safely and securely for at-home application
You can depend on VALCHLOR Support®
VALCHLOR is a special medicine and it comes with a lot of support.
Contacting VALCHLOR Support® at 1-855-4-VALCHLOR (1-855-482-5245) can help you with the following:
Help answer questions about your prescription, VALCHLOR, and what to expect during treatment
Outreach via phone call and text message provided by specially trained pharmacists and nurses to help with your treatment
Reimbursement specialists can assist you with:

Initial prescription enrollment and insurance verification for VALCHLOR
Scheduling of VALCHLOR shipments directly to you
VALCHLOR refill reminders
Financial assistance if you are eligible (see below)
Assistance with claims support
Eligible patients* are provided with financial assistance
If you are privately insured, VALCHLOR is covered by most health plans
If you don't have a prescription plan, you may be eligible for a patient assistance program
If you have limited coverage, alternative funding resources may be available
Helsinn would like to further support eligible patients by temporarily waiving the $10 fee.
Eligible patients pay no more than $10 $0 per prescription fill.*
*The VALCHLOR copay program is only available for US and Puerto Rico residents who are 18 or older and have commercial health insurance with copay/coinsurance exceeding $10 $0 per prescription fill. Patients ineligible for the VALCHLOR copay/coinsurance program include those enrolled in Medicare, Medicaid, VA/DoD (Tricare), the Indian Health Service, or any other federal- or state-funded healthcare program, or where prohibited by law. The VALCHLOR copay program is not prescription drug coverage or insurance. Helsinn Therapeutics, Inc. reserves the right to terminate or modify this program at any time without notice. Other terms and conditions apply.
Important Safety Information
VALCHLOR gel is for use on skin only. Do not get VALCHLOR near or in your eyes, mouth, or nose as it can cause pain, redness, swelling, burning, and ulcers. It can also cause sensitivity to light, blurred vision, and may also cause blindness or permanent eye injury. If VALCHLOR gets in your eyes, rinse your eyes right away for at least 15 minutes with a large amount of water, normal saline, or an eyewash solution. If it gets in your nose or mouth, rinse the affected area right away for at least 15 minutes with a large amount of water. Get medical help right away.
Do not use VALCHLOR if you are severely allergic to mechlorethamine. Tell your healthcare provider if you have had an allergic reaction to mechlorethamine.
Before using VALCHLOR, tell your healthcare provider about all your medical conditions including if you are pregnant, planning a pregnancy, or breastfeeding:
Avoid becoming pregnant during treatment with VALCHLOR. VALCHLOR may harm your unborn baby.
Females who are able to become pregnant, and males with female partners who are able to become pregnant, should use a barrier method of birth control such as a male condom or spermicide during treatment with VALCHLOR.
It is not known if VALCHLOR passes into breast milk. Do not breastfeed during treatment with VALCHLOR.
VALCHLOR is flammable. Avoid fire, flame, and smoking until VALCHLOR has dried.
Serious Side Effects Include:
Risk of secondary exposure to VALCHLOR for caregivers who accidentally come into contact with VALCHLOR may include risk of skin inflammation (dermatitis); injury to eyes, mouth, or nose; and certain types of cancer. If accidental contact occurs, thoroughly wash the affected area with soap and water right away for at least 15 minutes and remove any contaminated clothing. Get medical help right away if VALCHLOR gets in your eyes, mouth, or nose.
Skin inflammation (dermatitis) is common with VALCHLOR and may sometimes be severe. Risk for dermatitis is increased if VALCHLOR is applied to your face, genital area, anus, or skin folds. Tell your healthcare provider if you develop skin reactions such as redness, swelling, itching, blisters, ulcers, and skin infections.
Increased risk of certain types of skin cancers. Certain types of skin cancer can develop on treated and non-treated areas with VALCHLOR. Your healthcare provider will check your skin for skin cancers during and after treatment. Tell your healthcare provider if you get any new skin lesions.
Most common side effects include redness, swelling, itching, skin ulcers or blisters, skin infection, and darkening of areas of your skin.
VALCHLOR may cause fertility problems in females and males. This could affect the ability to become pregnant. Talk to your healthcare provider if this is a concern for you.
These are not all of the possible side effects of VALCHLOR. Call your doctor for medical advice about side effects.
You are encouraged to report negative side effects of prescription drugs to the FDA. Visit www.fda.gov/medwatch or call 1-800-FDA-1088.
Keep VALCHLOR and all medicines out of the reach of children.
Applying VALCHLOR
When applying VALCHLOR, caregivers must wear disposable nitrile gloves, which should be safely thrown away in the household trash. Wash hands with soap and water after touching or applying VALCHLOR. Apply right away or within 30 minutes once taken out of the refrigerator. Refrigerate VALCHLOR right after each use. Apply a thin layer to completely dry skin at least 4 hours before or 30 minutes after showering or washing. Let treated area dry for 5 to 10 minutes after applying VALCHLOR before covering with clothing. Moisturizers may be applied to the treated areas 2 hours before or 2 hours after applying VALCHLOR. Do not use airtight or watertight bandages on areas treated with VALCHLOR.
Please see the full Prescribing Information and Medication Guide (EN/ES). for VALCHLOR.